Hardwood Floor Cleaning in Charlotte, NC
Experience Unmatched Hardwood Floor Cleaning in Charlotte, NC
Looking for professional hardwood floor cleaning in Charlotte, NC? Search no more! My Carpet Cleaner in Charlotte NC is here to help, offering expert care and attention to your precious wooden floors. With our efficient and proven method, we take the strain off you, providing top-notch hardwood cleaning without any sanding. In no time at all, our capable team will transform your floors, restoring their original luster and charm.
Your One-Stop Solution for Home Cleaning
At My Carpet Cleaner Charlotte NC, we're committed to making your life easier. No need to waste precious time hunting for different companies to handle your various cleaning needs. We offer an all-in-one service to get your carpets, upholstery, tiles, and hardwood floors spotless.
Want to add air duct and dryer vent cleaning? We've got you covered! With our five-star rating, you can rest easy knowing your home is in the hands of the best in the business.
Hardwood floors are undoubtedly a beautiful asset in any home. They exude class and timelessness but require proper care to stay looking their best. Without the right attention, your hardwood floors can stain or get damaged easily.
That's why it's essential to understand the importance of maintenance and the right cleaning procedures. This includes using the appropriate wood sealer to protect your floors from accidental spills, ensuring the longevity and beauty of your hardwood floors.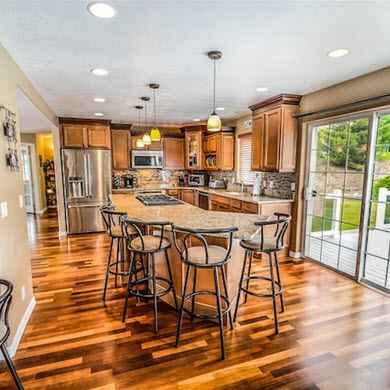 Preserving Your Hardwood Floors' Integrity
While applying the right amount of sealer plays a vital role in preserving your hardwood floors, it's equally crucial to refresh this coating periodically. Over time, the sealer may wear off due to foot traffic and daily use, diminishing its protective properties. When this happens, it's time to call in the professionals at My Carpet Cleaner Charlotte NC to reapply a new layer, keeping your hardwood floors protected and looking their best.
Key to a Clean and Sparkling Hardwood Floor
Cleanliness is paramount to keep your hardwood floors at their best. Regular maintenance helps prevent excessive dirt buildup that can scratch and dull the floor. This involves sweeping or vacuuming to remove dust and dirt, followed by using a specialized hardwood floor cleaner.
Never use water directly on your hardwood floors, as it can seep into the crevices, causing warping and damage. Always ensure no moisture is left on the floor after cleaning to maintain its shine and integrity.
Preventive Measures for Hardwood Floor Care
Keeping your hardwood floors clean and pristine doesn't have to be a chore. Set house rules to remove shoes indoors, and promptly clean up spills as they happen. This way, you can maintain the cleanliness of your hardwood floors, significantly contributing to the overall appeal of your home.
Tips to Keep Your Hardwood Floors Looking Their Best
Your hardwood floors deserve the best care. Here are some tips to ensure they remain beautiful and long-lasting:
Sweep frequently with a soft-bristled broom.
Vacuum with a soft brush attachment a couple of times a week.
Consider carpet runners in high-traffic areas.
Wipe up spills immediately.
Avoid wearing high heels on the floors.
Don't drag heavy objects across the floor.
Place floor mats at each entrance.
Equip each furniture leg with pads.
Preserving Your Investment: Hardwood Floor Cleaning in Charlotte, NC
Investing in hardwood floors is a significant decision, and at My Carpet Cleaner Charlotte NC, we ensure your investment stays protected. We're here to offer essential advice and services for hardwood floor cleaning and maintenance. Regardless of the type of finish on your hardwood floors, we're equipped with the right products and knowledge to keep them pristine.
Reach out to us today.
Unleash the vibrant potential hidden within your home's unsung hero, the carpet, by investing in a thorough cleaning, turning every step into an affirmation of your commitment to cleanliness, comfort, and class!
Embrace the transformative power of carpet repair, breathing new life into your treasured floor covering, and reaffirming your home as a canvas of continuous renewal and care!
Harness the unyielding power of commercial cleaning, not just to create a pristine and professional space, but also to declare your dedication to a healthy, productive, and inviting environment where possibilities flourish!
Transform pet odor from an unwelcome guest into a distant memory, affirming your home as a sanctuary of freshness and cleanliness where unconditional love for your furry friends never compromises the quality of your living space!
Unveil the luminous potential of your tiles with a comprehensive cleaning, turning every square inch into a testament of your dedication to a sparkling, beautiful, and well-maintained home!
Revitalize your furniture with a thorough upholstery cleaning, declaring each seating surface not just a place to rest, but also a bold symbol of your commitment to comfort, cleanliness, and the allure of a well-cared home!